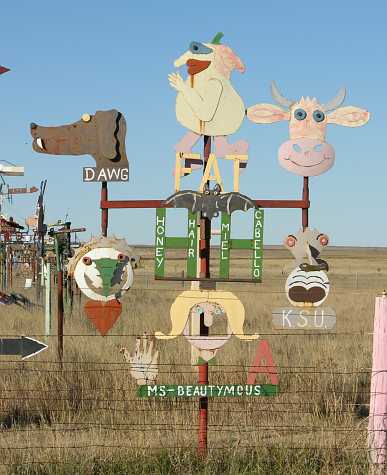 Free thinking, foul mouthed and full of piss and vinegar, Kansas artist, M.T. Liggett is what the real American heartland is all about. He drinks straight from the bottle and shoots straight from the hip and his purpose in life is to create wonderful pieces of really inspired metal sculpture.
His work lines a stretch of road near his home and people come from miles around to look at it.Others, especially the good folk of tiny Mullinville, Kansas, are scandalized and embarrassed by M.T.'s antics on the prairie outside of town. But M.T. Liggett doesn't care. He makes his own way in the world and he cares about expressing his own, unique truth. He's stubborn, cantankerous, and brilliantly talented. He's the epitome of the old saying " bloom where you are planted" and I, for one, think he is just great.
We definitely ARE in Kansas, where hardscrabble prairie living makes folks, down to earth and tough minded.. Check out the interview with the great man in this video and watch for the upcoming
Red State Road Trip2
for which it is a trailer.